ご無沙汰しております(*´∀`*)
えー、以下は当初英語での洋書ブログの方に載せるつもりで書いていたのですが、よく考えてみたらねぇ、ネイティブさんや私より遥かにレビューを書く経験や語学力のある方たちを前に「これがtipsだよーん」って書くのもかなり図々しいわ!って感じがしたので小心者のワタシはこちらにアップすることにしましたw
ということで全編英語でしかもクッソ長い(お行儀悪いw)ですが、ご容赦を♫
Hello, bookworms!
It's been quite a while since I last did a discussion post, and this isn't technically book-related, but I thought I would share with you my habits and what kind of things I keep in mind when writing book reviews.
Obviously, I am far cry from an accomplished reviewer/book blogger or anything, but I thought it might be interesting to discuss what you would normally pay attention to and what kind of routine you have for writing reviews.
Without further ado, let's go!
What I Do While Reading
Take notes : I never read books without taking notes or highlighting. I always carry around small post-it notes and a pen with me when I read physical books and scribbled down my brief thoughts and post them as I go. The reason for doing so is to keep track of the plot as well as prevent losing my train of thought. Reading can take quite a long time depending on your mood and circumstances, and more often than not, life does get in the way. You don't get to read as much/fast as you'd like and might end up forgetting almost everything when you're finally ready to pick it back up. In a bid to keep my memory fresh and up-to-date as much as possible, I have made it a habit of taking notes and writing down my thoughts as I read.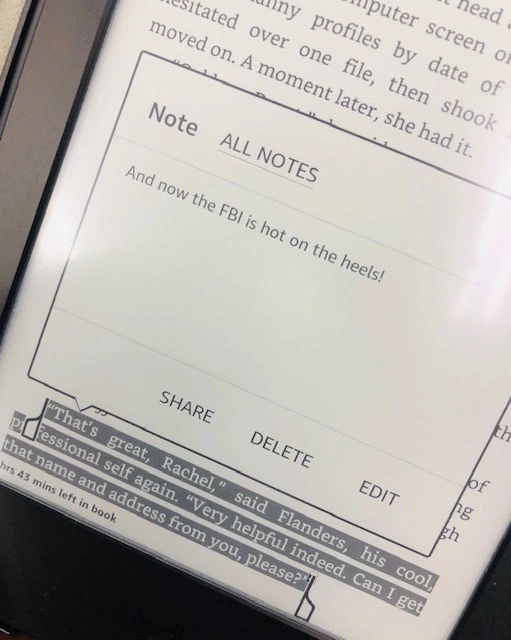 Add some comments on my Goodreads updates or tweet my thoughts : This also serves as a reminder/tracker of my train of thought. I normally sit down and start writing book reviews right after I finish a book, but sometimes words just don't come to me straight away and I get lost staring at my computer screen for hours in vain. In such cases, my #Reading Journal posts where I ramble about the books I'm reading or tweets/Goodreads reading updates come in handy. I can always go back to them and refresh my memory, and it's been working quite well so far.
Sort out my thoughts as I get closer to the end: I've been trying to write a review for every single book I read since I launched my own book blog which also means when I finish a book, I need to write a review. It's quite funny because it's not an obligation or anything, but I do so anyway. As I get closer to the end of a book, say, past 85% or 90% of a book and the ending comes in sight, I start sorting out my thoughts by rambling as they come to mind. Obvoisouly, there are books that take quite a drastic turn that makes you do a complete 180 very close to the end, you never know what/how you'd feel after closing the book, but it still heps in my opinion. You can at least have some ideas what you want to say in your reviews. I do this literally everywhere - in my car, in the shower, while doing the dishes… whenever and wherever I am. Silly as it might sound, but it is what I do to organize my thoughts, and it's actually a good practice to put my opinions into words as well. I can prepare myself for the inevitable (a.k.a. writing a book review) at least and once again, it's been effective for me.
These are the things that I normally do while reading a book, and now we dive into…
What I keep in mind when writing reviews
Be coherent: As I mentioned earlier, I start writing reviews right from the moment I finish a book. I simply sit down at my desk, open up either Goodreads or a blank Word document and then start typing away letting my thoughts take full control. That being said though, it can also lead to incoherent reviews with my thoughts and points jumping all over the place, so I always read aloud what I write both in mid-process and before publishing. If I don't find the flow natural nor coherent, I go back and rewrite sometimes a whole paragraph until I see fit or I feel it's presentable and decent enough. Should all my attempts fail, I use some categories such as "characters," "the points I like," "the points I don't like," to assist stating what worked for me and what didn't. This categorization do wonders especially when I am stuck, having no idea where to begin my review.
Employ an objective voice/expressions : This is another thing that I care the most when writing reviews. When I started out almost 3 years ago (come August 25th, my blog turns 3 years old!), I knew nothing about writing reviews and they were literally pathetic and cringe-worthy. You can read some of my initial reviews that I published in 2016 and as you may see, I didn't even cover the basics; I just simply put together my impressions toward a book, and wrote pretty much everything in a very subjective manner – using quite a few exclamation marks or phrases like "Oh, my God!," or, "This is crazy, but it's sooooo goood!!!" Get the picture? It's not like I am against being ebullient and effusive in my expressions, I would definitely behave like so if I were in my early 20s or something, but sadly, I'm well over that age group and I think I need to behave in a more mature way. On top of all that, it makes me blush feeling embarrassed, a feeling that you have when you write a letter in the heat of passion or melancholy at night and then feel your cheek burn when reading it once again before posting it. If you feel a bit embarrassed by your own writing, even more so for your readers. That's exactly the reason why I always try to be objective rather than all gushy and emotional.
State the reason with some examples: This is probably the reason my reviews tend to be lengthy. Although my reviews were really short when I started out, my reviews got longer and longer as I learned about writing reviews by reading others' fantastic posts, and I also learned the importance of being fair to a book. If I like something about a book – whatever it may be – I first state the points that I like and then state the reason why I like them. I make sure my claim and arguments are always accompanied by reasons and some examples. If I don't provide either of them, I feel something amiss, I never feel my reviews complete without giving reasons/examples which makes me stress the same point at least twice, or even more when necessary. I honestly don't know if it's a good thing or a bad thing, and I wish I had the capacity to write short and concise reviews, but I don't and this is what I can't help doing at the moment. 
There you have it; those are my habits/routines/things that I do when reading and writing reviews. I know it's way too long, but I still hope you read the whole thing and if you don't mind, feel free to comment below and share your thoughts!
Thank you so much for dropping by, and I will see you in my next post!